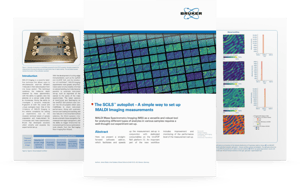 MALDI Imaging is a powerful label-free technique that allows users to simultaneously examine different molecules in their native location from one tissue section. This technique combines the molecular depth obtained by mass spectrometry (MS) with the ability to spatially view the analytes on a cellular scale similar to microscopy. MALDI MS imaging is a versatile and robust tool, however it requires a well-thought-out experiment set-up.
Download this app note to discover a solution that:
Can be set up within ten minutes
Is suitable for users of all experience levels
Is applicable to different MALDI imaging applications
For Research Use Only. Not for use in clinical diagnostic procedures.