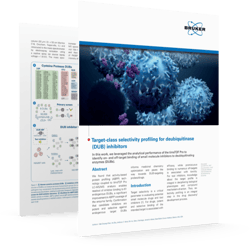 Target selectivity is a critical parameter in evaluating potential small molecule drugs and tool inhibitors. For drugs, potent and selective binding of the intended target is associated with efficacy, while promiscuous binding to numerous off-targets is associated with toxicity. For tool inhibitors, knowledge about the target profile is integral in deciphering biological phenotypes and compound mechanism-of-action. Thus, selectivity profiling is an integral step in the drug discovery/ development process.
Download this app note to discover a solution that provides:
Accurate quantification with multiplexed stable isotope reagents
Unprecedented coverage of cellular DUB enzymes
Evidence that hits in a high-throughput biochemical screen are indeed selective for intended targets
For Research Use Only. Not for use in clinical diagnostic procedures.