Antibodies are a rapidly growing, clinically successful type of biopharmaceutical, with more than 60
antibody-based drugs currently approved for use and marketed. This rise in the number of
approved antibodies has fueled innovation in the production and engineering of therapeutic
antibodies.
This infographic highlights the different types of approved antibody drugs and gives an overview of antibody engineering and production.
Download this infographic to learn about:
Antibody drug types

Monoclonal antibody production techniques

Display technologies and expression systems

Production platforms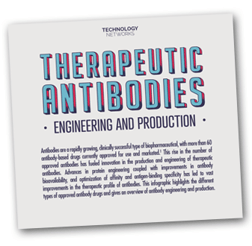 Sponsored by: