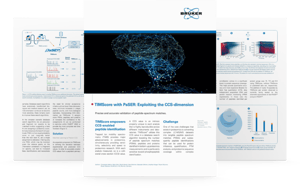 One of the core challenges that exists in proteomics is converting complex LC-MS/MS datasets into tangible peptide spectrum matches (PSMs) and subsequently peptide identifications that can be used for protein inference, quantification, PTM analysis and proteome sequence coverage within complex samples.

Trapped ion mobility spectrometry (TIMS) provides major advancements in proteomics, simultaneously providing sensitivity, selectivity and speed to proteomics research. With each analyte measured, so is a collisional cross section (CCS) value.
Download this app note to discover a solution that:
Boosts the numbers of proteins, peptides and PSMs in complex datasets
Increases protein sequence coverage substantially
Provides an additional dimension for more precise and accurate peptide assignments
For Research Use Only. Not for use in clinical diagnostic procedures.